A MEMBERSHIP EXPERIENCE UNLIKE ANY OTHER
Why is CAPS unique?
CAPS membership is designed to help you advance your practice through strategic supply management inspiration and connection. Your membership is an opportunity to connect with senior supply management leaders around the world, empower your team with tools, and advance your practice.





3 MINUTE VIDEO TUTORIALS
Explore CAPS membership benefits
CAPS is transforming organizations, helping you reach new heights and meet the future of the profession. Watch these videos to see how can become your best partner.
Go from inspiration to advancement. Surpass your own benchmarks and meet the future of the profession. Learn more about the benefits you get from CAPS.
Advance your supply management organization with strategies, data, models, and playbooks from CAPS.


Get inspired with research, benchmarking, models, tools, and templates designed to elevate your organization.
Join a network of global supply management leaders and leverage decades of collective experience, insights, and best practices.
EXPLORE INNOVATIVE & UNBIASED SUPPLY MANAGEMENT KNOWLEDGE
Your all-access CAPS Library pass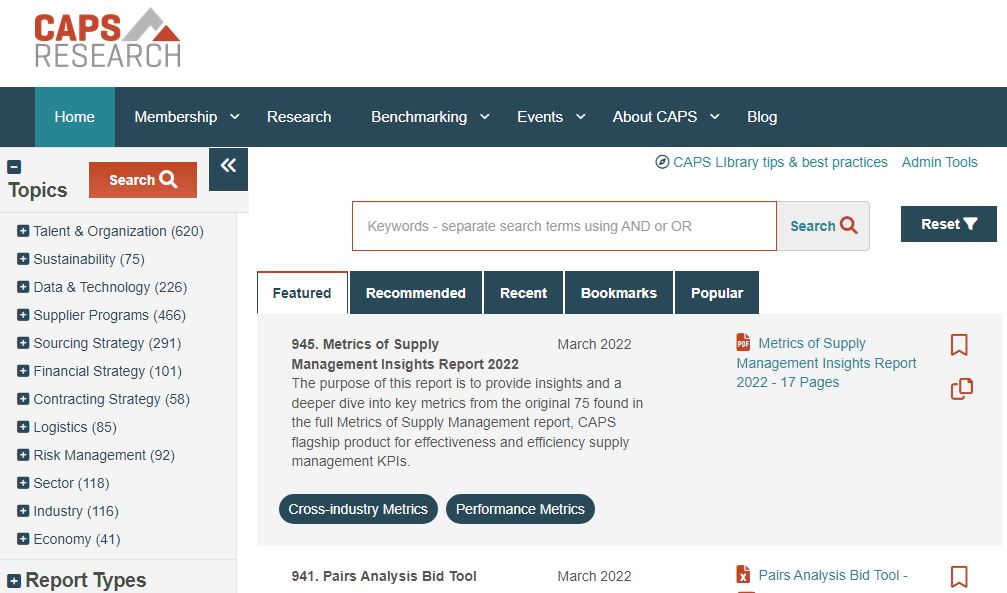 Leading-edge strategies and best practices, KPIs, and insights categorized and tagged, right at your fingertips.
Register with your business email to take advantage of all the benefits available to you, like member-only access to past events, customizable search results, and more.
Are you looking for something specific or do you just want to browse? Use our search tips page for best practices, tips, and tricks on navigating the CAPS Library.
KEY METRICS WHEN & HOW YOU NEED THEM
On-demand performance metrics
Take your supply management group from tactical to strategic and use our unbiased data to see how you stack up in your industry.
Click on the options below to learn more
DIVE DEEP INTO YOUR CAPS MEMBERSHIP
The next best steps in your journey
Take advantage of the ongoing opportunities available to you with your CAPS membership. Here are some steps to get your started:
Get more from the CAPS network on Twitter with timely supply chain management news.
SAFE-LIST & CONTACT US
See you in your inbox!
Please whitelist the capsresearch.org domain in your personal inbox. Or if there are persistent deliverability issues, we'd be happy to work with IT department on an organizational level. For more information on how to make sure CAPS reaches your inbox, read our page on safe-listing.
And remember, your CAPS membership is valid for your whole organization, so get your entire team involved!
Want to chat? Get in touch with us to co-host meetings, request data, suggest research topics, or walk through your member benefits.